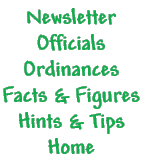 150th Celebration of the Incorporation of Worth Township


The celebration and exhibits will be held on September 25th at the Worth Township Hall (the old Worth Grange Building) 811 West Park Road, Slippery Rock. It will start at 12 noon and end in the evening with a free square dance.




Schedule of Events


Noon: Exhibits of Quilts & Crafts, Tractors, Equipment, Food Concession, Crafters & Vendors
12:00 - 3:00: Children's Fingerprinting, Games, Balloon Animals, Facepainting, Clowns
1:00: Moraine Park Presentation
2:00: PA Game Commission Black Bear Program
3:15: Slippery Rock High Students Vocal Presentation
4:30: Two Person Saw Contest
5:00: Tamarack Cloggers
6:30: Salute to Veterans and Flag Lowering Ceremony by the Boy Scouts
8:00: Free Square Dance with Ed Flinner
We also have "Scoops" the Butler Eagle Mascot, "Cookie" from Eat'n'Park, Audubon Society, door prizes, free coffee and cake, and a Chinese Auction.


If you wish to have a craft table there, indoor tables are $5. Reserved outside spaces are free but you must bring your own table and canopy. For information on reserving a table, call 724-368-3545.