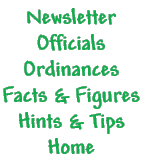 BEAR ALERT
We presently have at least four (4) active Black Bears roaming the Township. While they are probably more afraid of you than you might be of them, nevertheless, these are wild animals and should never be approached. The Pennsylvania Game Commission offers these tips for the safety of you and your families if you come upon a bear:

Stay calm.

If you are close to the bear, back away (never run) slowly while talking loudly to it.

If the bear is at a distance or has cubs with it, give it a wide berth. Never approach it.

Under no circumstances should you make any attempt to try to feed the bear(s).
Stray Animal Information
Starting January 2006, you will have two options for the removal of stray dogs. You may still contact the state dog officer (Ken Rudisill 724-898-9704). He will come and pick up the stray but he will no longer be able to take it to the Butler Humane Society. He will take the stray to a shelter in another county. Ken will continue to handle your complaints concerning stray dogs or problems with neighbors dogs. Your second option will be to take a stray to the Butler Humane Society yourself, but you will be charged $40 to drop the stray off. For stray cats, the Humane Society tells us that you can drop them off yourself but likewise, you will be charged a $40 fee. At present there is a waiting list for stray cats so you should call the Humane Society first to see if they are taking cats. Just a reminder: all dogs over 3 months of age MUST be licensed by January 1 of each year and MUST have a Rabies vaccination administered by a licensed veterinarian. License applications are available at the Township Office.