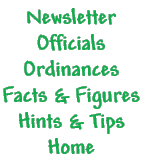 Please Note: BARRON ROAD (T-366) FROM ITS INTERSECTION ON THE NORTH WITH STATE ROUTE 108 TO ITS INTERSECTION ON THE SOUTH WITH TAGGART ROAD (T-372) IS NOW 40 MPH. ALSO, COOPER ROAD (T-373) FROM ITS INTERSECTION ON THE WEST WITH ZION CHURCH ROAD (T-371) TO ITS INTERSECTION ON THE EAST WITH BOOK ROAD (T-348) IS 40 MPH.

Fee Resolution, effective 2006 THE WORTH TOWNSHIP BOARD OF SUPERVISORS HEREBY RESOLVE THE FEE STRUCTURE AND POLICIES REGARDING FEES FOR WORTH TOWNSHIP, BUTLER COUNTY, PENNSYLVANIA, UNTIL FURTHER AMENDED.

Sewage Enforcement Ordinance, effective 2005 AN ORDINANCE OF THE TOWNSHIP OF WORTH, BUTLER COUNTY, PENNSYLVANIA PROVIDING FOR THE ENTERING INTO INTERGOVERNMENTAL COOPERATION WITH OTHER MUNICIPALITIES OF BUTLER COUNTY TO ESTABLISH AND MAINTAIN THE BUTLER COUNTY SEWAGE ASSOCIATION TO PERFORM AND ENFORCE THE REQUIREMENTS OF THE PENNSYLVANIA SEWAGE FACILITIES ACT.

Building Permit, effective 1990 AN ORDINANCE REQUIRING ALL PERSONS, PARTNERSHIPS, BUSINESSES AND CORPORATIONS TO OBTAIN A BUILDING PERMIT FOR ANY CONSTRUCTION OR DEVELOPMENT; PROVIDING FOR THE ISSUANCE OF SUCH BUILDING PERMITS; SETTING FORTH CERTAIN MINIMUM REQUIREMENTS FOR NEW CONSTRUCTION AND DEVELOPMENT WITHIN AREAS OF THE TOWNSHIP WHICH ARE SUBJECT TO FLOODING; ESTABLISHING PENALTIES FOR ANY PERSONS WHO FAIL OR REFUSE TO COMPLY WITH THE REQUIREMENTS OR PROVISIONS OF THIS ORDINANCE.

Driveway Ordinance, effective 2000 AN ORDINANCE OF THE TOWNSHIP OF WORTH, BUTLER COUNTY, PENNSYLVANIA, PROHIBITING THE INSTALLATION OF DRIVEWAYS ONTO TOWNSHIP ROADWAYS WITHOUT FIRST SECURING A PERMIT FROM WORTH TOWNSHIP; PROHIBITING THE MAINTENANCE OF DRIVEWAY NUISANCES AND PROVIDING PENALTIES FOR THE VIOLATION THEREOF.

Subdivision and Land Development Ordinance, effective 2001 AN ORDINANCE OF THE TOWNSHIP OF WORTH, COUNTY OF BUTLER, DEFINING AND REGULATING THE SUBDIVISION OF LAND AND ITS DEVELOPMENT; ESTABLISHING PROCEDURES FOR THE CONSIDERATION OF MINOR AND MAJOR SUBDIVISIONS, MOBILEHOME PARKS AND MAJOR AND MINOR LAND DEVELOPMENTS; REQUIRING THE PREPARATION OF PRELIMINARY, FINAL AND AS-BUILT PLANS; REQUIRING CERTAIN IMPROVEMENTS TO BE MADE OR GUARANTEED TO BE MADE BY THE SUBDIVIDER OR DEVELOPER AND ESTABLISHING DESIGN STANDARDS FOR THOSE IMPROVEMENTS; REGULATING THE SALE OF LOTS, ERECTION OF BUILDINGS, LAYING OUT, CONSTRUCTION, OPENING AND DEDICATION OF STREETS, WATER LINES, SEWERS, OTHER FACILITIES AND PUBLIC IMPROVEMENTS; PROVIDING FOR THE ADMINISTRATION OF THIS ORDINANCE; AND PRESCRIBING PENALTIES FOR VIOLATION.